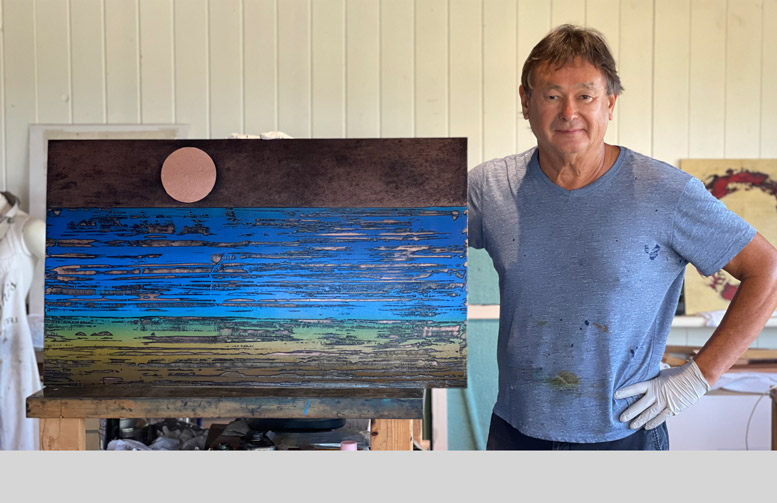 Artist Statement
Jim Powlan
There are several reoccurring themes in my work, love, relationships, turning points in life and the Hawaiian Islands. I work with a reverence of traditional techniques and materials while pushing the boundaries of what they are and can be.
Color and texture have always attracted me. I create one of a kind etchings hand printed on silk as well as deeply etched copper that is painted and then clear coated with a UV Lacquer allowing them to be displayed outdoors.
My 2D work reads as a painting but as it draw's you in there is much more. The combination of etching, painting, and or printing create a textural image that cannot be duplicated with any other mediums.
I blend traditional European style of etching ( Intaglio ) and oil based inks with Asian silk and it's sense of feel. The silk after printing is archivally mounted onto plywood using scroll mounting techniques.
Some years back I worked primarily with representational images. In more recent years I have moved more to contemporary abstract work. That said I sometimes drift back and do what I call non traditional Hawaiiana using semi abstract images to tell the story of Hawaii, it's discovery and peoples.
I start with polished copper plates which for me represent new life and how perfect it is. I then etch my plates in acid for 24 hours. This simulates the bumps and bruises, highs and lows of life creating deep relief images etched in to the plate. As in life itself each plate and print tells its own story.
I hand ink the copper plates and print on silk I source from Japan. I will only print an image between one to three times but each is one of a kind as they are printed on different types of silk or with different color inks. Sometimes I will etch a plate and never print it but paint it and turn it into a one of a kind art piece right away.
Whether printing from the copper plate or not I will then take the deeply etched metal and ink, paint and clear coat it. The clear coating adds UV protection. The coated copper is so durable it can be displayed in an outdoor setting. The copper can be mounted on silk, framed in wood or hung as is to give it a more modern look. Sometimes I bend the copper before painting and mount onto wood forms making it them sculptural wall pieces.

Juried Shows
Maui Arts and Cultural Center – Biennial Juried Exhibition 2023
Hui No'eau Visual Art Center Annual Juried Exhibition 2023
Hui No'eau Visual Art Center Annual Juried Exhibition 2022
Hui No'eau Visual Art Center Annual Juried Exhibition 2021
Hawaii Craftsman Annual State Wide Juried Exhibition – 2020
Art Maui – 2020
Art Maui – 2019
Pacific States Biennial North American Print Exhibition – 2018
Hawaii Island Art Alliance Summer Show – 2018
Art Maui – 2015
Hui No'eau Visual Art Center Annual Juried Exhibition – 2015
Hawaii Craftsman Annual State Wide Juried Exhibition – 2014
Art Maui – 2013
Pacific States Biennial North American Print Exhibition – 2012
Art Maui – 2010
Art Maui – 2009
Art Maui – 2007
Hui No'eau Visual Art Center Annual Juried Show – 2006
Invitational Shows
View Points Gallery – Collaboration Show – 2020
View Points Gallery – Collaboration Show – 2016
View Points Gallery – Contemporary Show – 2015
View Points Gallery – Collaboration Show – 2014
Hui No'eau – Art Affair – 2014 – 2017
Shows I Have Been asked to Juror
University of Hawaii at Hilo – Annual Student Juried Show – 2019 All Mediums.
Hui No'eau Visual Art Center – Teacher / Student Show – 2013
Galleries
Hana Coast at Hotel Hana
Gallery Mack – Seattle
Maui Hands – The Shops at Wailea
Education
Mullowney Printing – San Francisco
Hui Press – Maui
College of Marin – California
Art in Public Places
Maui Arts and Cultural Center – Permanent Display
Maui Mayors Office Lobby – Permanent Display
Maui Memorial Medical Center Lobby – Permanent Display
Gannon's Restaurant – Wailea Golf Course – Permanent Display
Maui Community College – Class Act Restaurant