Aloha and welcome to my website.
I am a Printmaker and Mixed Media Artist on the island of Maui working on one of a kind prints on silk and etched copper that is painted and clear coated.
I blend Intaglio printmaking with scroll mounting, metal work, and auto body skills.  Please look around and contact me if you have any questions.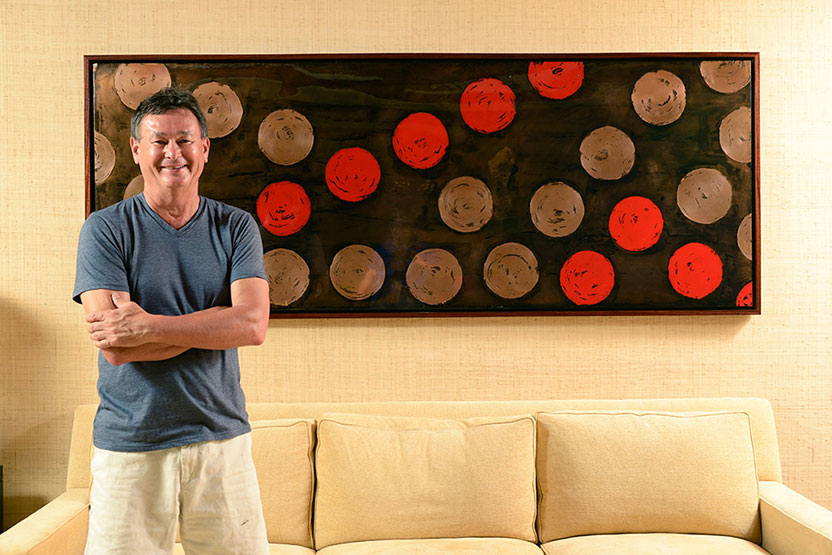 The world Around Us
Commissioned Piece  -3′ x 8′ Etched, Inked and Coated Copper framed in African Mahogany. I love doing commissioned work. This was done for a wonderful couple with a beautiful home in Makena. The piece represents the fire lava and ocean that is Maui as well as it has some polished copper areas that show vignettes of the surrounding area.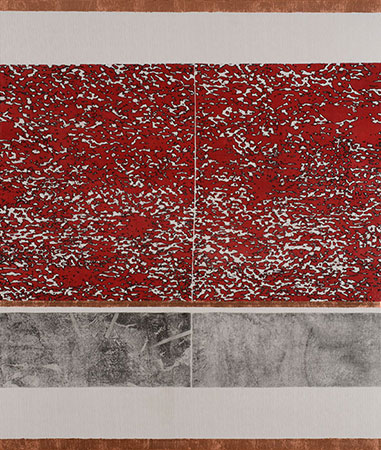 Ebb & Flow
48 x 60 Printed on Japanese Silk from four individual Copper Plates, Scroll Mounted together with Copper Leafing. One of the technically hardest works I have ever done. This represents lava flowing into the sea and the black sand beaches that are created when it does.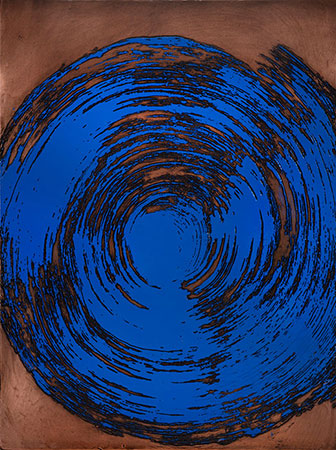 Hurricane Blues
18 x 24 Deeply Etched, Inked, Painted and Coated Copper. When El Nino heats up the Pacific nature flings large storms in our direction. Fortunately our island home has been able to ward them off.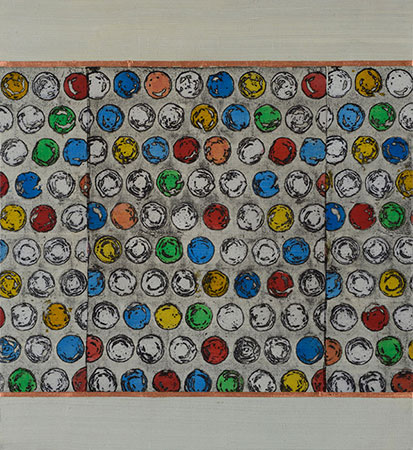 Equality
33 x 36 printed on Indian Silk with Copper Leafing. Equality means different things to different people. To me at a base level I believe we all want the same things. A happy, healthy and better life for ourselves and loved ones. With that in mind wouldn't it be better if we treated each other as equals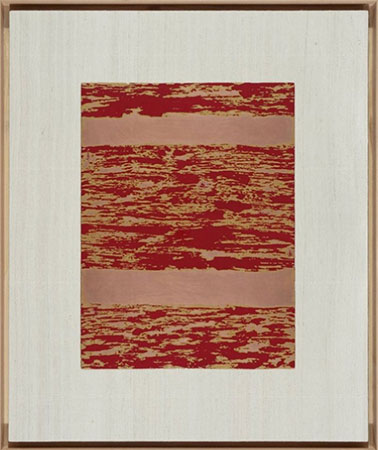 Sunset Horizon
32 x 38 Etched, Inked, Painted, and Coated Copper Mounted on Japanese Silk and framed in Maple. Living in Hawaii our sunsets can be other worldly with scarlet clouds lit by the sun and disappearing over the horizon.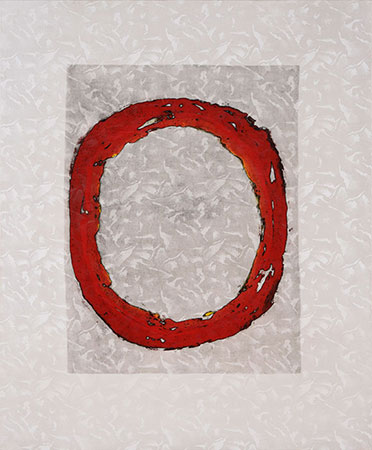 Life
30 x 36 Printed on Japanese Silk. I love this special silk from Kyoto with subtle Cranes in the background. It is part of my Enso series which are all one of a kind. To me it means that a certain point in your life you realize that imperfection is perfect.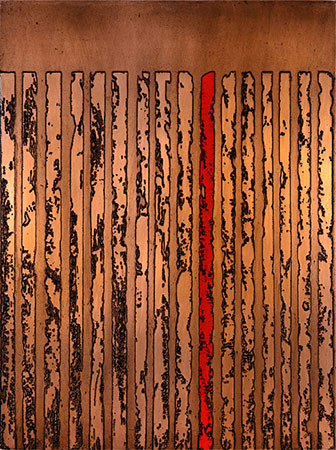 One
18 x 24 Etched and clear coated copper. There is always one person that has to go their own way. This etching was done when Robin Williams went his own way.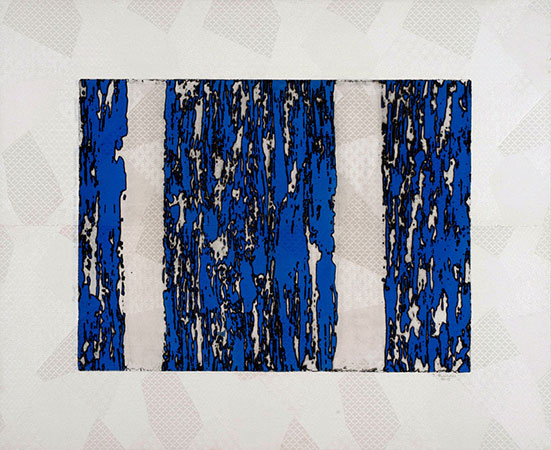 Petrified
30 x 34 A one of a kind print on scroll mounted Antique Kimono Silk. While visiting the Stone Tree Vineyard in Eastern Washington I picked up some pieces of fossilized trees. This is my version although I had to enhance nature by adding my own colors.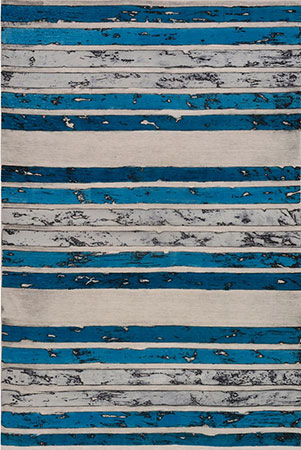 Ocean Waves
24 x 36 Printed on Japanese Silk. When the surf is big on the North shores of Hawaii you will see waves to the Horizon.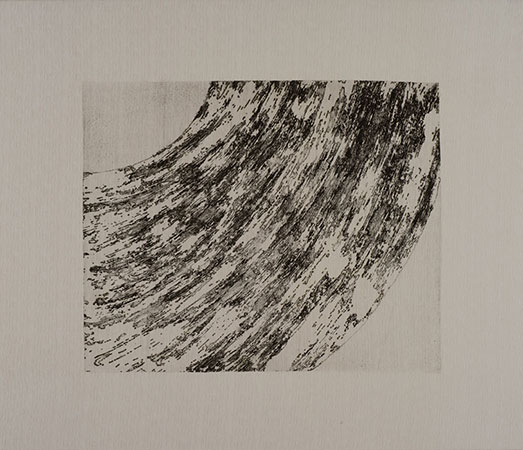 Wave
45 x 39 printed on Japanese Silk. Sometimes as in nature simple and elegant is the best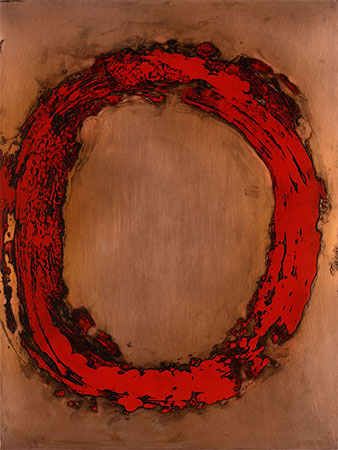 Circle of Life
18 x 24 Etched, Inked, Painted and Coated Copper. Life is short and never perfect. One day your parent is pushing you in a stroller and the next you are pushing them in a wheel chair.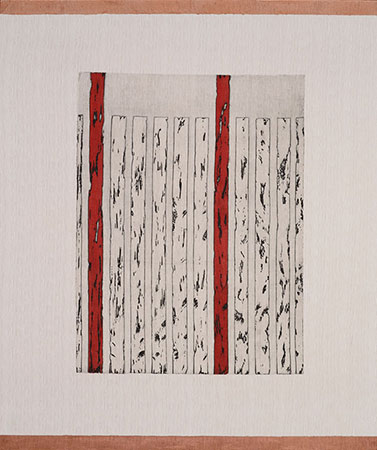 Twin Towers
32 x 38 Printed on Japanese Silk. After an emotional visit to the NYC Memorial I wanted to do something that would show the Spirit of the Twin Towers rising over the city.
Latest Work
The standard size of my images is 18 x 24 with the silk border they are generally 30 x 36 depending on the silk used. I am always working on new prints and copper plates. Please check back often as I update regularly.
Abstract: Relief
I like pushing copper to its limits often etching the plate for up to 24 hours creating dramatic relief images in the metal. I then hand ink in multiple colors and print on silk, occasionally paper.
Metal Work
Starting with mirror finish copper sometimes I like a plate enough on its own that I may never print it after etching it for 24 hours and controlling the way it oxidizes, I then clear coat it to keep it as rustic image of its own. After I have printed an image I may ink the plate in multiple colors and let the ink dry before clear coating to seal the copper and ink together making a companion piece for the original print.
Abstract: Aquatint
With my aquatint images I use resin melted on to the copper plates to control the subtle tonal qualities going from white to black. I hand ink in black and print on different types of silk and each one is unique.
Figures
My figures range from Nudes to Buddhist influenced images. They are done in the Aquatint technique and I try to show the aura that I feel each image has.
I am a printmaker and metal artist.
I am a blend of Asian and European descendants and that is carried into my art.
I combine traditional European etching techniques with traditional Japanese scroll mounting.
I add my modern sense of design, with clean and direct elements, to this complex art form. The results are contemporary and always one-of-a-kind. Each piece is a completely handcrafted work of art.

It is my desire that my work creates a sense of peace, stillness, and balance. My ultimate goal is to bring that, and more, to all viewers and collectors of my work.
Each piece, while modern, is created using an ancient process – copper etching. The copper surface is masked with resistant material – a liquid tar – and then submerged in acid. It is never submerged for more than two hours before it is rinsed and then re-submerged again for a total of 24 hrs. in acid. The resist area is unaffected while the unprotected surfaces slowly are etched.
Printing is the final stage. I ink the plates and then lay dampened silk on them. They are then rolled through my printing press with many hundreds of pounds of pressure; the image is virtually embossed onto the silk.
Over the years my copper plates themselves have become sought after. I sometimes create them as a stand-alone piece, never printing them. I ink them and clear coat the entire surface. They are then mounted on silk and framed. Truly one-of-a-kind, my joyful results are shared with collectors on several continents.
This year, I have begun a new chapter. I am working on a larger scale, including doing pieces for larger public spaces. These public work commissions are deeply expanding my reach and scope. I am excited to know that my art will be seen by an even larger audience.
Please contact me any time for more information or to learn about my newest work.
Studio visits are always welcome
Jim Powlan
808-870-3330
Resume
 

Juried Shows
Art Maui – 2015
Hui No'eau Visual Art Center Annual Juried Show – 2015
Hawaii Craftsman Annual State Wide Juried Exhibition – 2014
Art Maui – 2013
Pacific States Biennial National Print Exhibition at U.H. Hilo – 2012
Art Maui – 2010
Art Maui – 2009
Art Maui – 2007
Hui No'eau Visual Art Center Annual Juried Show – 2006Curated Shows
Hui No'eau Visual Art Center – Teacher / Student Show – 2013
I was asked by Hui No'eau to juror the Print Making Dept. for the Annual Teacher / Student Show.Galleries
Artist Show Case – Four Seasons Hotel – Fridays
Hana Coast at Travassa Hotel
Maui Hands Makawao
Maui Hands PaiaEducation
Mullowney Printing – San Francisco
Hui Press – Maui
College of Marin – California

Art in Public Places
Maui Mayors Office Lobby – Permanent Display
Maui Memorial Medical Center Lobby – Permanent Display
Gannon's Restaurant – Wailea Golf Course – Permanent Display
Artists Show Case – Four Seasons Wailea – Lower Lobby on Fridays
Maui Community College – Class Act Restaurant

Associations
Art Maui Board of Directors 2013 – Present

808-870-3330

 

 
808-870-3330
Please be aware that Hawaii time is 3 hours earlier than West Coast and 6 hours earlier than East Coast…